Smart System Blender!
Vitamix Ascent Series 3500
Beautiful & Great Features!
Same Day Delivery Hp:8182 3325 (Jenny)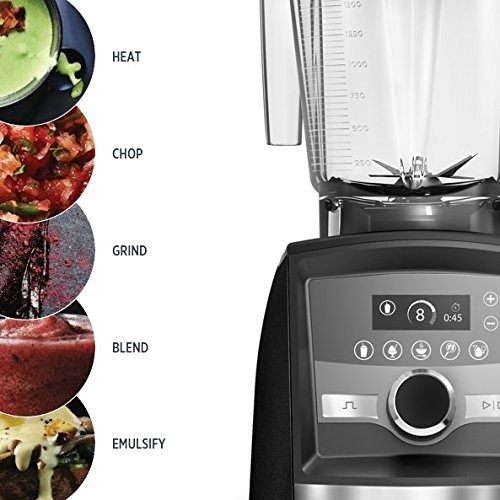 Vitamix Ascent Series 3500
High-Performance Blenders With Built-in Timers & A Family Of
SELF-DETECT Containers
Vitamix Fuels Passions
That's why Vitamix is most trusted by professional chefs. But you won't just find Vitamix in restaurant kitchens. You'll also find Vitamix in home kitchens around the world. Because whether you're interested in the culinary arts, making healthier choices, or enjoying restaurant-quality smoothies at home – when you're ready to move on and move up, when you're ready to invest in your passion, you're ready for Vitamix.
If You're Looking For a Top Performance Blender That Will Not Fail You, Keep Making Smoothies And Food Preparation For Yourself And Family, Look No Further…
Features:
Five program settings (for Smoothies, Hot Soups, Dips & Spreads, Frozen Desserts and Self-Cleaning) automatically and process your recipes, and stop the blender when complete. Built-in wireless connectivity will allow Ascent™ Series blenders to evolve with the latest innovations for years to come.
Program Settings:
Five program settings ensure walk-away convenience and consistent results. Just blend warm water and a drop of dish soap at your machine's highest speed, and watch it self-clean in 60 seconds or less – no disassembly required.
Touch Interface:
Touchscreen controls give the machine a sleek silhouette and are easily wiped clean. Since the number-one reason people purchase a blender is to make smoothies, it's important to get them right. Whether you prefer an icy blend or a perfectly smooth puree, nutrition-packed with veggies or a light, fruity treat, Vitamix smoothies give you a delicious, even blend in every Sip.
You're In Control:
Variable Speed Control and Pulse feature let you fine-tune the texture of any recipe. The focused power of our complete blending system causes every component of the Vitamix machine to work together, creating faster, smoother blends packed with flavor.
SELF-DETECT Technology:
Wireless connectivity will allow your blender to evolve, while interlock technology prevents the machine from operating if the lid or container is not secure. Make smoothies & juices, hot soups, flours & dough, nut butter, frozen desserts, batters, dressings & sauces, non-dairy milks, and more.
Programmable Timer:
A built-in timer helps avoid over- or under-processing your custom recipes. Set the timer to the length of your blend, and it will turn the machine off automatically.
Vita-Prep3 – Not Your Ordinary Blender (Popular Choice For Busy Home Kitchen!) 
More Power, Versatility & Performance, with 3 Peak Horsepower, Ideal
for Smoother Textures, Blending Dense Ingredients & Much More…
Vitamix VitaPrep3 Reviews
Looking for a high performance blender? Look no further, VitaPrep3 is still the favorite model among chefs and those looking for one high performance blender for their kitchen.
Is this blender the right one for you? There are other blenders that are just as powerful with similar features too.
So why is VitaPrep3 worth getting? Here are some key features & benefits.
1. Most blenders can do fruits & vegetables smoothies but why this model is trusted by professional chefs all over the world? Reason is it's designed to endure the demands of a professional kitchen.
The motor comes with 3 HP, you can do a variety of ingredients from hard ingredients like ice cubes to whole foods. You can use the blender to grind, blend, chop, or puree ingredients for an extended period of time without worrying about overheating.
2. It comes with a tamper tool for blending thick mixtures. You do not need to stop the machine to make sure the thick mixtures are well blended. Regular blenders are not made to work on thick ingredients, VitaPrep3 solves this through a tamper, which allows you to push ingredients down to create a smooth blend with no problem.
3. The switch and control is easy to use and operate, even for newbies. The speed control knob and accelerator toggle ensure that you get the right texture for your blends (from coarsely chopped nuts to the smoothest meat pates and pureed veggies). The dial is manually-operated as well, easily control the speed down to the precision of the texture that you want.
4. It comes with a 3-year warranty. Vitamix gives you 3 years worth of peace of mind against defects in parts and workmanship.
Other reviews of the VitaPrep3
Vitamix products are highly rated by customers well worth the money you paid for. From restaurant owners and chefs with praises for the durability, they use every single day without fail. Use it to do salsa, sauces, soups and purees, grind meat and so much more. They've done this without having to replace any of the blades, because the VitaPrep3 machine is built to last.
Most reviews are on how easy it is to operate. The switches and controls are quite easy to use, so anyone can use it and adapt to the knobs easily. Another one of the blender's standout characteristics is its power which even surprises some of the users. Based on their experience, it can really crush anything you put inside it and the motor will not die down on you. Some customers have remarked on their past experiences with other blenders that cannot go on after multiple uses (especially with difficult ingredients), but they have encountered no such problem with the VitaPrep 3.
That said, because this is priced higher than normal blenders, some comments highlight that while this is blender is ideal for any commercial kitchen, it may not be practical for a home kitchen. You don't really need to spend all that money on a 3-hp blender if you're not going to maximize its use anyway. Because price is a very important variable in any purchase decision, there are those who think this blender is a little too expensive for home use. 
How does it compare to other models like the home Vitamix 5200 Model?
Both 5200 and VitaPrep3 look identical and function the same, the 5200 is at 2-hp and VitaPrep3 model is more powerful at 3-hp. Vitaprep3 comes with an advanced cooling fan, that ensure it work well even at the highest setting. You're purchasing the Vitamix seal of quality, a durable machine that will last and you want to be using it daily then go ahead and invest one today.
Having this blender on your kitchen counter will certainly make your kitchen more stylish and modern. The Vitamix VitaPrep 3 is ideal for commercial heavy usage as it can withstand the workload easily. So if you're chef, a coffee shop owner, caterer, or a restaurateur, or even a busy home kitchen then this blender may just be what you are looking for. It's definitely dependable compare to a regular brand blender as you do not have to worry about the machine breaking down or getting replacement; make sure your business is run smoothly.
Vita-Prep3's 3 Horsepower Motor withstand tough & heavy usage as it withstand the workload without fail.
If you're chef, business owner, caterer, restaurateur, even busy home kitchen owner, VitaPrep3 may just be what you'll need.

VITAMIX – Vita-Prep 3 (For Home & Restaurants)

Model: 010089 (Black)
Product Type: Blender
Availability: In Stock
For Home or Commercial kitchens. Professional chefs around the world trust the Vita-Prep 3 for its exceptional power, versatility & performance. From chopping delicate ingredients to blending tough purees, the Vita-Prep 3 prepares every dish to perfection.
Manual Controls
Variable Speed Control delivers a full range of precise textures, and the Start/Stop switch automatically returns to a neutral position, helping to prevent unintentional start-ups.
Advanced Cooling Fan
The Advanced cooling fan provides optimum reliability during peak hours of operation.
Tamper
An included Tamper provides the flexibility to blend thick and frozen mixtures with stopping the machine.
Durable Container
Our durable BPA-free 64-ounce high-impact container comes with a removable lid plug, making it easy to add ingredients while blending.
Product Specifications
Series: Ascent
Dimensions: 20.32cm x 27.94cm x 43.18cm
HP: 2.2
Electrical Ratings: 220-240 V, 50-60 Hz, 1200-1400 W
Weight: 8.3 kg
Cord: 1.2 m
Use: Household
Manufacturer: Vitamix – Cleveland, Ohio USA
2.2 HP Motor
Our newly-designed motor features improved thermal capabilities, providing the power and dependability required in the most demanding commercial kitchens.
Country of Origin: USA
Please refer the Use & Care manual provided and the recipe book to help familiarize with the machine so you know the correct way to use your Vitamix.
Product Catalogue
Vita Prep 3 Quick Start Guide.pdf
Vita Prep3 Sell Sheet
Vita Prep3 Owner's Manual.pdf
VitaPrep3 Used by Top Chefs
Starchef Jason Wilson
Starchef Jeff Mclnnis
Starchef Colin Patterson
Starchef Clay Conley
Starchef Mark Andelbradt
Glad to OWN A3500
I was making my green smoothies with Oyster's blender which was used for juices only but when I started to make green smoothies, I realized this Oyster is gonna die anytime soon. So I was looking for a much better machine to do the job. I have read the reviews here and over Youtube on comparisons with other blenders and I finally made a decision on Vitamix. Started using the blender itself for a month and feel the need of purchasing the 20 oz and 8 oz kits, my teen makes his own sorbet and juice with 20 oz one. Works perfectly. Some reviews complaints about the 20 oz or 8oz something don't work, that's simply because you didn't read the instructions, matching the arrows on the base and the container, as long as they are matched, it will detect.
The first time using this machine wasn't 100% successful, I did not have enough water, after adding more water it works wonderfully, chances of needing the temper is rarely ( only when I am making big batch of ice cream I would need it). Although it is not so cheap but it comes with 10 year warranty and I happened to see Dairy Queen is also using Vitamix and I had a smile on my face. I would rather buy a machine that will last long time than every 2 years to buy a new blender. Cleaning is rather easy, just fill up the water and a drop of dish soap, run on cleaning function and rinse off, That's all. Well, I always wipe off the water inside out. The only thing is it is not very quiet, although I read other reviews and other users said this is the most quiet one , the thing is that you will get used to the noise. Next one to try is the almond butter.
I would recommend Vitamix to friends and family and I believe other models in Vitamix will work as good as A3500, the results should be the same if it is the same motor and if you are on a budget. Always suggest buyers to take your time in reading reviews and watch reviews on Youtube. And don't forget to take an advantage on their installment plan.
Vitamix Just Keeps Getting Better
I recently purchased the Vitamix A3500; this is my fourth blender from the company, and I have to admit they just keep getting better. From my experience, Vitamix blenders do not break and they make the smoothest anything you put inside the pitcher. The three I purchased before the A3500 still function the same as the day I bought them, but the technology keeps improving so I keep upgrading. I imagine the family members I pass my older blender's to are grateful. I know this will sound cliche, but Vitamix sets the standards by which all other blenders are judged. Go get one, you will not be disappointed!
Top-Seller Blender
Satisfaction Guaranteed