Vitamix 5200 – Simply the Best Kitchen Aid for Instant & Delicious Drinks
Make Smoothies, Juices & Frozen Treats In 5 Mins or Less!
There are many quality blenders on the market today. If you're looking for a high performance blender and one that will last you for a long time, you really can't go wrong choosing the Vitamin 5200. Among them Vitamix 5200 is still the flagship model designed for home use. In Singapore, only 5200 Model is available. Great blender with an excellent quality, with 7 years warranties & outstanding performance. Many customers still prefer the Vita-mix blender for its simplicity.

Take a look at its coolest, most lovable features.
Durability and design
It is commercial-grade, meaning even hotels and restaurants can use this powerful blender made to last! A purchase also comes with a complete set of warranties for the most out of your investment. The Vitamix 5200 also helps you quickly create almost all types of foods, including desserts.
Processing of large batches
From small to large batches, you can do it with the Vitamix 5200!
Strong and powerful
You can also pulverize seeds. Yes, you got that right! This model is so powerful that it can work even on the hardest seeds and pulverize them.
Speed control
Vitamix 5200 lets you control speed at your desired levels, helping you achieve that perfect consistency and texture, all the time, no guesswork.
DIFFERENT FOOD PREPARATION
Mincing and cutting
Having the Vitamix blender, you will have much more fun mincing garlic and cutting vegetables than you would with any manual methods.
Juices and smoothies
Get your daily dose of healthy smoothies and let go of store-bought variants, which contain chemicals and preservatives. What you also get with the blender is all the healthy goodness from food – including its full fiber content and that fantastic super tasting snack or breakfast.
Batters
Do you love baking? If yes, you will love Vitamix 5200 too! Did you know that this excellent blender could also help you make quick batters for cakes, breads and other types of pastries and goodies? Make your sweet baking time extra special with this machine.
Nut batters
You will literally go nuts creating your no-preservative peanut butters and nut butters in less the time you would need with ordinary blenders and food processors. With your very own version, you can also ensure that you won't be using much sugar that could ruin your healthy eating plan. With this blender, you can also make delicious snacks with crushed nuts for added texture and taste.
Non-Dairy Milk
Having sensitive stomach and can't include dairy milk into your diet and smoothies? Make your version of non-dairy milk? It is so easy! Lactose – intolerant individuals have already been taking advantage of the powerful blender that can help them make non-dairy milk for their cereals and drinks.
Soups
Who says you have to buy another machine for processing soups? You don't have to! Just use the Vitamix blender for all those and cut the preparation time and so you have more time for yourself!  So, if you're a busy mother, who has to prepare different dishes for breakfast, lunch or dinner, you can get help from the Vitamix healthy blender. Plus, it has very sharp blades to process even soup dishes and is able to generate heat warm enough for cold ingredients to become steaming hot.
Frozen desserts
Make some frozen treats for kids? During their vacation, we envision of giving them the best time to stay at home, be with us and snack healthily. Now, you can make healthy and quick frozen desserts with this blender, which aids in preparing sherbet, ice cream, milkshakes, and virtually all types of frozen desserts to imagine.
Dough and flour
Show them your girl power! Make healthy and tasty dough without exerting too much effort in the process. With the Vitamix blender, you can grind even wholegrain flour and knead dough like a pro pastry chef. So go on, and turn that lazy afternoon into a lively one with a creative pasta, pretzel or bread.
Sauces and dressings
Unleash your creative and fun side making sauces and dressings of your choice ingredients without so much effort. Create flavorful and tasty options instantly with help of Vitamix blender 5200.
Spreads and dips
You don't have to buy commercial spreads and dips when you can make yours with picked ingredients in minutes.
Baby food
Well, babies have more sensitive tummies than the rest of us do. You don't want to expose your little one to the chemicals in readymade baby food. Now,
you can eliminate all those worries away because Vitamix blender will help you make what you exactly want for your baby – vegetables, fruits and so on.
Maintenance
The blender is powerful and versatile, but what about its maintenance? It was also a part of what customers considered before getting this super machine. It is very easy; just make sure you don't get your finger anywhere near the blades. Simply follow the instructions when cleaning the container. Fill some water to the container and some liquid soap. Turn the machine on and blend at highest speed so that it self-cleans in less than a minute.
Overheating
All machines will overheat if you overuse or overwork it at once. The machine automatically shuts off in the event of overheating. How it works: The thermal override will start kicking to turn the motor off. The motor will then cool and start running again, so you should not worry.
REMINDER: Do not forget turning the dial down before turning the machine. Sounds common advice, but it will help you much.
How about the noise?
Okay, another issue to address – does power also translate to noise? Not really with Vitamix 5200. You won't even notice it is working. There is no exaggeration here. Compared to other powerful blenders, this is absolutely quieter than any of them are.
So far, everything is good about Vitamix 5200. Vitamix is the top brand blender, nothing will beat the super blender that gives us all that power in the kitchen and that ability to hone our chef skills. And with the healthy lifestyle to help us with, need I say more?
Go On & Satisfy Your Curiosity On The Vitamix 5200.
Order Today!

 Vitamix 5200 –  Simply the Best World Class Blender!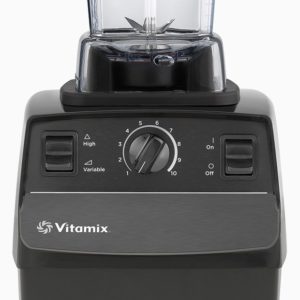 Unit dimensions
52 cm tall (with 2L container in place)
22.25 cm deep
18.5 cm wide
Weighs 4.95 kg
It is easy to use, and all you have to do is to just SWITCH ON the button,  and let the blender do its job automatically and turns it off whenever it's done!
Vitamix 5200  – A high-end blender and, frankly, it is not cheap. But look at the quality it don't look cheap either! It is still the best blender in the world and many have used it in homes, smoothie cafes, restaurants, and the famous Starbucks. It does blend anything from smoothies, soups, grind coffee beans and so much more! When it comes to cleaning it is very easy and hassle free! There are four(4) beautiful colors; Red, Black & White to choose from. There is also a choice of Stainless Steel color base; all the color really stands out in the kitchen.
It is a perfect gift for your family, your loved ones, parents or grandparents, for college students who do not cook. Suitable for homes, vegans, vegetarians, or for any health nuts!
 Vitamix Model 5200 (Total Nutrition Center)

The package includes:
• An Informational DVD – (Vitamix)
• Recipe Book  – (Vitamix)
• Instruction Manual – (Vitamix)
• Accelerator Tool – (Vitamix)
• 7 Year Machine Repair Warranty
 FREE LOCAL HOME DELIVERY
Red, Black, White Motor Base

Brushed Stainless Steel Finish Motor Base
To order, simply contact Ms Jenny Lim hp: 8182 3325 for same day delivery.

Weekend (Saturday & Sunday) delivery available. Please confirm order & we will reserve for you.

Vitamix 5200 Blender

Vitamix 5200 Blender is the all-in-one appliance that makes delicious fresh juices, smoothies, milkshakes, ice cream, margaritas, cappuccinos, soups, dressings, sauces, bread dough, salsas & so much more!
It replaces up to 9 appliances with one quick easy-to-use touch button, at just a fraction of the cost.
–  #1 Most versatile and cost effective blender
–  Great for smoothies, shakes, soups, ice creams, spreads, baby food & more..
–  Vitamix breaks through cell walls of fruits and vegetables to release all vitamins and nutrients
–  Commercial-quality 1,560-watt counter top blender with 2 peak horse-power
–  52cm tall (2L container), 22.25cm deep, 18.5cm wide, 4.95 kg weight
–  7 years warranty, dvd, recipe book, manual & accelerator tool
The Vita-Mix TNC (Total Nutrition Center) has more functionality than any blender. Its processing power may significantly enhance nutrient intake from whole foods giving you all the vitamins and nutrients you need each day. This efficient counter top appliance works great for whipping up smoothies, mixing frozen drinks, blending pureed soups and baby food, stirring up spreads, salsas, and more. You will never need another blender!
Vita-Mix (TNC) Features:
• An extremely POWERFUL 2 HORSEPOWER MOTOR and BLADES that turn at 22,000 RPM making it QUICK AND EASY to prepare wholesome and nutritious recipes for the whole family.
• VARIABLE SPEED CONTROL for chopping, whipping, blending, stirring and pureeing.
• SELF-COOLING FAN, 'STAY-SHARP' STAINLESS STEEL BLADES and SEALED STAINLESS STEEL BALL BEARINGS.
• 12-SIDED STEEL MOTOR COUPLING ensures that the power is efficiently transferred to the blades.
• THE NEW FEATURE OF NEW MODEL – CONTAINER IS BPA FREE
• The 2 LITRE JUG SQUARE BASE ENABLES THE UNIQUE CUTTING ACTION and GIVES YOU ENOUGH CAPACITY to make drinks and foods for the whole family.
• PATENTED SPILL-PROOF VENTED LID that is super-secure, with a REMOVABLE PLUG for adding ingredients while the machine is running.
• THE 'DRY' JUG (32oz Retail SGD215/-) AND BLADE ARE STANDARD to the TNC and are USED FOR RAPIDLY CREATING SMOOTHIES, FROZEN DESSERTS, PUREES, SPREADS, YOGURTS, BABY FOOD AND SOUPS.
• HEAVY-DUTY, HIDE-AWAY SAFETY CORD EXTENDS 48.25 CM TO 1.80 M
Simply contact Ms Jenny Lim h/p: (+65) 8182 3325
for FREE Home Delivery.

More Videos Click Link Below:

Please Spread The Word
If you find our products are good please take a moment to click on ANY of the sharing buttons below and help others too. We would really appreciate it. Thank you!