Treating yourself and your kids with ice cream over the weekend sounds like a good idea.  But instead of buying those in the store, you can make your own ice cream in which ingredients, such as its sugar content, you can control. Just 60 seconds or less is all you need.
Check out the following for ice creams you can churn out in your Vitamix blender.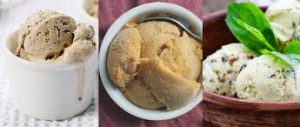 Pistachio & Green Tea Ice Cream
So, do you love the antioxidants in green tea?  Use it in your ice cream. This easy recipe is for the healthy eater in you.  It also includes nutrient-dense pistachios to double the fun! The recipe can make up to three cups or four servings.
Ingredients
One cup of cashew nuts
One-fourth cup of maple syrup
One tablespoon of green tea powder
One-half cup of pistachios
Two tablespoons of lemon juice
One-fourth cup of almond milk or coconut milk
Two pieces of bananas
Preparation
Soak your cashews overnight. In the morning, rinse and drain it. Blend it with the rest of the ingredients until creamy in texture. Transfer everything in the container and freeze before serving.
Dark Chocolate & Peanut Butter Ice Cream
It is a soft serve ice cream made of your favorite bananas, and there is no guilt (no cream) to feel if you're into healthy eating. This recipe makes three cups.
Ingredients
One-half cup of Greek yogurt
One-fourth cup of maple syrup
Two tablespoons of peanut butter
One-fourth cup of cocoa powder
Four pieces of frozen bananas
Preparation
Combine the ingredients, but the peanut butter, on your blender and blend them until creamy and thick. Add in the peanut butter and pulse up to three times to mix it well in the ice cream. Put in the fridge. Serve for snack or while watching TV.
Coconut Ice Cream
This coconut ice cream is yours if love coconut. It is creamy, but dairy-free. It does not use any cream, but only coconut milk. And for extra fiber, flavor and texture, you can scoop and roll each serving in coconut flakes later. This recipe can make up to four servings or three cups.
Ingredients
One-half cup of coconut milk
One-fourth cup of coconut flakes
One-half teaspoon of maple syrup
Two pieces of frozen bananas
One-half teaspoon of vanilla
Preparation
Put all the ingredients in your Vitamix blender and blend all them until creamy.  After, transfer it in a container and freeze. Serve and enjoy.
There you have the three delicious yet nutritious ice cream recipes that you can make with your Vitamix blender. Have fun, experiment with the ingredients and enjoy a fun ice cream dessert anytime with your kids!